THE DESTINATION GAZETTE-WINTER 2019
A recent travel study found what motivated Americans to make their travel decisions. You may (or may not) be surprised on the findings. The people interviewed wanted their travel experiences to be one of the following: a good story to tell, to impress others, to be perceived as worldly, to look good on social media platforms or to not be out of touch with their friends.
I share the sentiments of the late, Charles M. Schultz: "In life it's not where you go. It's who you travel with." So, plan a trip with the special people in your life this year and make some meaningful memories.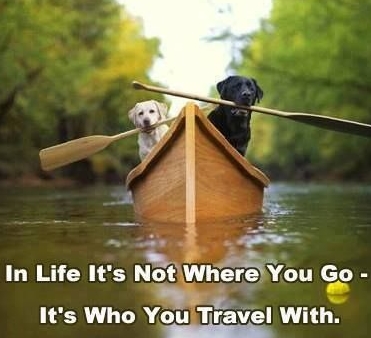 Our winter newsletter features travel experiences for beer lovers and wine aficionados, noteworthy guided & hosted travel itineraries, Global Entry versus TSA Pre-Check, reasons to take a guided vacation and current travel specials. Best wishes to everyone for a "Happy Valentine's Day"!
NOTEWORTHY GUIDED & HOSTED TRAVEL ITINERARIES
Celtic Tours offers exciting 4 & 5 night escorted tours from Edinburgh to see some of Scotland's most beautiful and scenic islands. The Isle of Arran, Isle of Skye and Isle of Mull offer travelers stunning scenery, picturesque villages, an array of seafood dining and a playground for soft adventure activities . These shorter vacation experiences are wonderful for those travelers who are looking for a more authentic and relaxing experience. Please contact Pam for a brochure and complete details.
Brendon Vacations has a new 10 day guided vacation great for families called "Shamrocks & Leprechauns". Families will have fun at the "Winterfell Castle Archery Range" movie set for some behind-the-scenes-insights into the award-winning series Game of Thrones, dress in costumes from the program and try their hand at shooting medieval arrows using ancient bows. Kids will love to walk in the footsteps of the mythical "Finn MacCool" on the Giant's Causeway, stroll along the ancient walls of Londonderry, "Connect with the Locals" and visit a sheep farm where you can learn the art of sheepdog handling and the roll and use of wool on the farm. There is no end to family fun on this new adventure. There are limited departures so contact Pam as soon as possible.
Also, the new "Dublin, Belfast, The Antrim Coast & Londonderry" locally hosted rail vacation is great for the independent traveler. The new 7 night itinerary lets travelers combine a visit to Dublin with an opportunity to experience the incredible scenery of The Antrim Coast and the historic, walled city of Londonderry in Northern Ireland. There are opportunities to customize your package with different levels of accommodations to suit your budget, additional nights and to upgrade to a 15th century castle overnight stay. Please contact Pam for complete details.
Trafalgar has a new 11 day "Best of Poland" guided vacation which includes Warsaw, Czestochowa, Krakow, Zakopane, a visit to the former concentration camp of Auschwitz, but, also includes a visit to Wroclaw (a former European Capital of Culture), the medieval town of Torun and the beautiful port city of Gdansk. Poland is an amazing country to visit. On this tour there is an opportunity to "Connect with Locals" and join a local family for a "Be My Guest" dinner and also to immerse yourself in Torun's tradition of gingerbread making during a visit to the Living Museum of Gingerbread. Please contact Pam for complete details.
TRAVEL EXPERIENCES FOR BEER LOVERS & WINE AFICIANADOS
Tauck River Cruises-New for 2019 is the 10 Day "Autumn Along the Rhine: Munich's Oktoberfest ". There will only be two departures in September! The 7 night river cruise on the Rhine River is combined with a 2 night land stay in the heart of Munich to experience the world's largest Oktoberfest celebration. Highlights of the river cruise are a "Brews & Bites Adventure" walking tour to visit the locals favorite breweries and eateries in the heart of Amsterdam. In Dusseldorf, join a craft beer walking tour of the Old Town which highlights local craft beer. A Tauck Exclusive in Heidelberg includes a beer pairing lunch at an award winning brewery in Germany's oldest university town. The La Petite France area of Strasbourg and its "winstubs" (traditional beer pubs) will end a wonderful touring day in the French countryside. Your 2 night hotel stay in Munich includes lunch in a private section of an Oktoberfest tent. Please contact Pam as soon as possible if you would like more information on this wonderful travel itinerary.
Celtic Tours-Savor the experience of Scotland's finer distilleries on this comprehensive tasting tour from Edinburgh. The 9 night escorted tour, "Whisky Experience" is sure to please the whisky aficionado. Travel on a small, intimate coach through scenic Scotland to Islay, Speyside and Edinburgh. On this tour you will discover all of whisky's nuanced characteristics in two of Scotland's outstanding whisky regions. Begin by savoring the smoky and peaty whiskies of the Isle of Islay, return to Edinburgh to experience an exclusive lunch at the Scotch Malt Whisky Society and then head north for a chance to indulge in the light, sweet single malts of the Speyside region. In between all the delectable flavors you will get a chance to see Scotland's famous national parks, lochs and ancient sites. It is a tour that blends the beauty and tastes of Scotland. Call Pam for complete details and departure dates.
Avanti Destinations-Beer lover will enjoy the 5 night "Beers of Bavaria" independent travel package which feature 2 nights in Munich and 3 nights in Nuremberg. One of the best ways to experience a culture is through its cuisine and local beverages. Your package includes five nights of accommodation, the Hop-On/Hop-Off Munich tour, one 3-course dinner in Munich, Bavarian Beer Tour in Munich, Maisel's Beer World Private tour in Bayreuth, Private Bamberg tour with smoked beer sampling, a 3 day First Class German Rail Pass and daily breakfast. Please contact Pam for complete details.
TSA PRE-CHECK VERSUS GLOBAL ENTRY
TSA Pre-Check expedites you through the security lines at the airport. The program works with more than 200 airport and 50 major airlines. The cost is $85.00. Please note some credit cards will pick up the cost of the fee. If you travel quite often domestically you may want to consider TSA Pre-Check.
Global Entry expedites you through customs lines when you return back to the United States. The cost is $100.00, but, it also includes TSA Pre-Check. If you travel frequently out of the country you may want to consider Global Entry.
REASONS TO BOOK A GUIDED VACATION
-Ease of planning
-Well developed itineraries
-Experienced guides
-Lets you focus on what is important
-Great value
-Great for singles as you travel with a group.
TRAVEL SPECIALS-Are subject to change, based on availability and restriction apply. Please contact Pam to check availability.
Apple Vacations-50th Anniversary Sale
Save up to $200.00 per couple on an exclusive non-stop vacation flight package or schedule air package of 3 nights or more to any resort. Book by 02/21/19
Down Under Answers-Auckland and Queenstown-from $1,499.00 pp (includes airfare west coast)
Experience New Zealand's iconic cities of Queenstown and Auckland on a fabulous 7 night air and land inclusive vacation. Auckland is the "City of Sails" and offers pretty much close to every activity that you could wish for from a high speed America's Cup racing yacht to a casual cruise on the harbor. Beyond the city you will find islands like Waiheke, known for their local artists and wineries. Queenstown is New Zealand's outdoor adventure playground offering jet-boating, bungee jumping and heli-skiing set against a stunning backdrop of lake and mountains
The 7 night air and land package includes: round-trip airfare on Air New Zealand from Los Angeles or San Franciso to Auckland and Queenstown, three nights of accommodations in Auckland and four nights of accommodations in Queenstown, US/Foreign taxes and fees including September 11 Security fee. Book by 03/22/19.
Royal Caribbean International
Receive 60% off second guest and kids sail free. Plus, receive a bonus of up to $100.00 to spend at sea. This offer applies to sailings departing on or after 03/01/19. You must book by 02/28/19.
Princess Cruises-All Aboard to Denali Sale
Receive up to $450.00 to spend onboard and up to $450.00 cruise-tour cash on select Alaska cruise-tours. Plus, receive specialty dining. Your cruise-tour must be booked by 02/28/19.
Classic Vacations-Hawaii Sale
Book now for 2019 travel to Hawaii and save with air credits, hotel specials and Alamo's Triple Upgrade offer. Plus, Classic Vacations will take $250.00 off your booking instantly when you stay a minimum of 5 nights or more at a participating property. The travel dates are now to 06/30/19. You must book by 02/28/19.
Trafalgar-Celebrates their 10th anniversary of their "Be My Guest" program. In 2009, Trafalgar reshaped the travel industry with their first "Be My Guest" experience on the hillside of Sorrento, Italy Ten years later, guests are enjoying our exclusive "Be My Guest" experiences on every worldwide trip. There are five reasons why you will love Trafalgar's "Be My Guest" experience.
-Offers travelers the best opportunity to mix one-of-a-kind experiences with iconic sights.
-Travelers will have an exclusive experience they will not find anywhere else.
-Every "Be My Guest" experience gives back to the community, ensuring the people, their cultures and traditions and the places Trafalgar visits remain thriving far into the future.
-The "Be My Guest" experience captures the true essence of a destination.
-The "Be My Guest" experience allows travelers to gain a sense of perspective as they connect with their local hosts, seeing first-hand how they live.
Save $200.00 per couple on all Italy trips. Book by 02/28/19.
Insight and Luxury Gold-Exclusive Virtuoso Offer. Save 100.00 off per person on an Insight Vacation and save $150.00 off per person on a Luxury Gold vacation. New bookings only. Valid for travel now to 12/31/19 and combinable will all other promotions with the exception of Last Minute Deals. Excludes journeys to USA and Canada and South America. Book by 02/28/19.