THE DESTINATION GAZETTE-SPRING 2019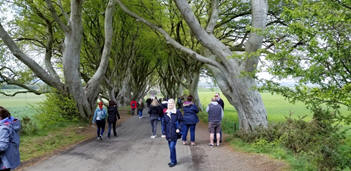 Every year, I embrace the spring season as an opportunity to increase my travel knowledge. I like to travel in the off-season and in late April I left for "The Emerald Isle". I wanted to revisit some familiar places, but, more importantly, to discover some new ones. I was excited to visit the Titantic Experience museum and the Game of Thrones Exhibition in Belfast, the Dark Hedges in Ballymoney (an avenue of beech trees planted by James Stuart in 1775), the beautiful Wicklow Mountains National Park & Glendalough (early Medieval monastic settlement founded in the 6th century by St. Kevin) and the Powerscourt Estate which included the Powerscourt Gardens (voted #3 in the World's Top Ten Gardens by National Geographic). I also met with the International Sales Manager at the Powerscourt Hotel Resort & Spa for a private tour of this amazing 5 Star property. On my last day, I purchased rail tickets and traveled to the beautiful, medieval city of Kilkenny.
Although my daily travels took me to both Northern Ireland & various areas south of Dublin, I only packed and unpacked once. I stayed at the boutique Wynn's Hotel Dublin just off of O'Connell Street on the north side of the River Liffey and did half & full day excursions. The Wynn's Hotel Dublin had an excellent location, a friendly and helpful staff, a nice & comfortable room and a wonderful breakfast. Most of the historical sights of Dublin and its two rail stations were within easy walking distance.
When my travels came to an end & I checked in for my flight back home to Chicago, I proceeded to the U.S. Preclearance facilities at the Dublin Airport. In March 2019, an amendment to an existing agreement between the United States and Ireland was added. The U.S. Preclearance (USCBP) facilities in the two main airports of Ireland are purpose built and allow US-bound passengers to undertake all US immigration, customs, and agriculture inspections at Dublin Airport prior to departure. The benefit is that preclearance allows passengers to avoid immigration queues upon arrival and pick up their bags and go. It was a great end to an amazing trip.
My spring newsletter includes exciting updates, current specials, an opportunity to make a difference on your vacation, information on Midwest summer festivals and our winner of the 2019 John F. Klimek Memorial Scholarship "Congratulations" to all recent and upcoming June graduates for 2019. We wish you success in all of your future endeavors. Best wishes to everyone for an enjoyable Memorial Day weekend and a beautiful summer full of sunshine and relaxation.
AVALON WATERWAYS- Avalon Waterways will begin offering four, five and six day river cruises in 2020. These sailings can be booked alone or can be combined with land package from either Globus or Monograms (Avalon Waterways "sister" companies).
The itineraries include a four-day "Tastes of the Danube" cruise between Budapest and Vienna, with price starting at $1,099.00 per person. A five-day "Taste of the Rhine" cruise between Mainz, Germany and Amsterdam starting at $1,999.00 per person and a six-day "Heart of Germany" sailing along the Main River and Main-Danube canal which starts at $2,099.00 per person.
ROYAL CARIBBEAN-Earlier this month, Royal Caribbean began to welcome guests to the Thrill Waterpark on Royal Caribbean's Perfect Day at CocoCay. The Thrill Waterpark is the cruise industry's first full-fledged waterpark and was built on a rocky outcrop in the middle of the ocean, 150 miles from Miami. It was truly a feat of logistical and engineering ambition.
Many of Royal Caribbean's guests disembark their ship and head straight for the tallest waterslide in North America, "Daredevil's Peak", which starts atop a 135 foot tall Daredevil's Tower and winds around in a 20-second descent to the ground. Beside "Daredevil's Peak" there are twelve additional waterslides, the largest wave pool in the Caribbean, a helium balloon ride which can travel 450 feet up in the sky for great photo shots, over-the-water cabanas, a 1,60 ft. zipline ride & more. There is a fee to enter the Thrill Waterpark and the exact pricing varies sailing to sailing, as well as, some of the island's new features.
Just outside of the fee-extra Thrill Waterpark are complimentary venues such as Oasis lagoon, the largest freshwater pool in the Caribbean; Splashaway Bay aqua park, with fountains, pools and drench buckets; and Captain Jack's Galleon loaded with slides and water cannons.
A peaceful oasis can be found at several enhanced beaches, Chill Island and South Beach. Also the number of rentable cabanas on CocoCay has increased to 49 and that number will increase by 20 when the overwater cabanas of the Coco Beach Club open in December 2019.
PORTUGAL-The recent World Travel Awards considered Portugal the "World's Best Destination". Central Holidays, a tour operator since 1972. met the challenge of the increasing popularity of this travel destinations & developed new vacation opportunities to experience Portugal's history & culture, wine making & gastronomy scene & beautiful beaches. New for 2019 are: The North of Portugal, The South of Portugal & The Best of Portugal (all private deluxe chauffeur driven programs), Lisbon & Porto, a Portuguese Food & Wine Experience (an independent cooking program) and Madeira, the Island of Eternal Spring (an independent program). They also offer fly & drive programs, Azores Island Hopping and the Pousadas of Portugal.
Madeira is an autonomous region of Portugal, an archipelago comprising of 4 island off the northwest coast of Africa. It is a year-round destination which enjoys a warm, subtropical climate. The main island of Madeira is volcanic, with lush greenery, pebble beaches, scenic moutain peaks and rugged beauty. The capital city of Funchal is known for its excellent food and wine scene, local folklore, wine cellars, open-air markets, beautiful botanic gardens and picturesque harbor.
Dotted around the island of Madeira are vineyards and wineries producing sweet, fortified Madeira wine. Visitors can enjoy hiking along old aqueducts or in the mountains, golfing, surfind and scuba diving at sites such as the Garajau Marine Nature Reserve.
The new Madeira, The Island of Eternal Spring is a wonderful 5 night package which includes accommodations, daily breakfast, 1 lunch, 1 dinner followed by a Fado show, guided tours, liqueur tasting and arrival and departure transfers. Please contact Pam for complete details on any of Central Holidays offers to Portugal.
MIDWEST SUMMER FESTIVALS-Summer is just around the corner, so plan your next long weekend getaway now.
June 15 & 16, Summer Solstice Lavender Festival. The month of June is the perfect time to visit Peaceful Acres lavender Farm in Martinsville, Ohio. Information can be found at: https://peacefulacreslavenderfarm.com/lavender-festival.
June 22 & 23, Indian Market and Festival. Artists and performers from more than 50 Native American tribes gather at the Eiteljorg Museum in Indianapolis for a weekend-long celebration of Native arts and cultures. https://eiteljorg.org/calendar/indian-market-festival/
July 4 to July 7, African/Caribbean International Festival of Life. Washington Park in Chicago comes alive during this weekend-long celebration of African, Caribbean and South American cultures. https://www.internationalfestivaloflife.com/
July 19 to July 21, Lincoln's Festival on Route 66. History comes alive on Route 66 during this festival honoring the Great Emancipator, our 16th president. Explore the trails, rails and roads from Bloomington to Normal. It was here that Abraham Lincoln rose on his own merit, becoming a respected lawyer and politician. https://www.lincolnsfestival.net/
July 26 to July 28, Pierogi Fest. The charming city of Whiting, IN. gets a lot livelier for a few days in July during Pierogi Fest. Dance the polka to live music, load up on pierogis and sausage and watch the colorful Polka Parade. https://www.pierogifest.net/
August 8 to August 11, National Blueberry Festival. Experience the joy of harvest season by spending a few days at South Haven's annual blueberry celebration. Enjoy live music, crafts and family-fun events. https://www.blueberryfestival.com/
HELP TO MAKE A DIFFERENCE-Dog lovers can take advantage a unique opportunity to spend their Island experience with Hawaii's loveable and adoptable shelter dogs. The Humane Societies of Kauai, Maui and Hawaii Island offer "field trip" opportunities for their adoptable canines, where you can take a shelter dog out just for the day. Visitors can fit in some dog time while also providing these loveable pups with some essential socialization.
Take your new furry friend hiking, exploring or to the beach and we bet you'll have trouble saying goodbye at the end of your day together. And who knows? They might meet their future forever home on their adventure with you.
http://kauaihumane.org/volunteer/shelter-dogs-on-field-trips/
http://www.mauihumanesociety.org/content/55023e863f81e/Beach_Buddies_Visitor_Program.html
http://hihs.org/services/fieldtrips
JOHN F. KLIMEK MEMORIAL SCHOLARSHIP-Our winner of the 2019 John F. Klimek Memorial Scholarship is Ms. Anna Bruno, a sophomore at Providence Catholic High School. We recognize Ms. Bruno on her outstanding achievement in academics, community service and Catholic religious studies. Congratulations Ms. Bruno!
CURRENT SPECIALS-Based on availability, restrictions apply, and subject to change.
Avalon Waterways. During Avalon Waterways biggest sale of the year, you can receive free air plus save $500.00 per couple on select 2020 Europe sailings or save up to $2,000.00 per couple on select 2020 Mekong & Ganges sailings. You must book and deposit by August 27, 2019.
Holland America Line. Explore each fascinating destination offered by Holland American Line and continue your adventures on boards. Book your next cruise adventure during their "Oceans of Extras" sale and enjoy up to $600 onboard spending money. Plus, suite guest also receive a beverage card and Signature Dining Package. Eligible cruises include select summer 2019-winter/spring 2020, excluding Grand Voyages and Grand Voyage segments. Book by 06/30/19.
Royal Caribbean International. Soak up the sun and the savings during the "BOGO 50 + Kids Sail For Less" event. Buy one guest, get second guest 50 pct. off. 25 pct. savings for 3rd & 4th guests. Select sailings to the Bahamas departing on or after June 8, 2019. Book by 06/02/19.
Southwest Vacations. Book a flight and hotel package to select resorts in Mexico and the Caribbean, and get up to $300 in instant savings at the time of booking. Travel dates: now to 11/01/19. Book by 06/03/19.
Pleasant Holidays. Escape to Hawaii, the world's greatest vacation playground. Enjoy warm ocean waters and spotless sandy beaches, majestic volcanoes, surfing, diving, golf, hiking and much more! Book an air and hotel package and save $100 off per booking. Travel now through 12/14/19. Book by 06/02/19. A 3 night minimum stay is required.